Biomass Power
Apart from creating value for TSH and its shareholders, we are also contributing towards our environment. Our palm bio-integration approach taps the huge commercial potential of bio waste of the palm oil industry through a fully integrated complex in Kunak, Sabah, complete with biomass and biogas power plants as well as a pulp and paper plant.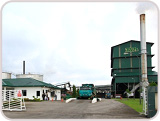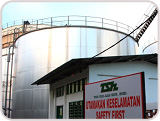 The integrated complex is powered by renewable green energy from a 14MW biomass cogeneration plant and is the first biomass power plant in the country that is connected to the grid. The biomass power plant has a renewable energy power purchase agreement (REPPA) with Sabah Electricity Sdn Bhd to supply up to 10MW of green electricity. The co-generation plant generates electricity and industrial steam from solid by-product of the mill.
Biogas Power
Biogas power is another eco-friendly project by TSH to tap sustainable energy from wastewater generated from the palm oil milling process or more commonly known as Palm Oil Mill Effluent (POME). The aerobic activated sludge process involved during the harvesting of energy from POME not only results in regulatory compliance but also more environmentally friendly POME discharge. Its key processes of methane gas recovery and utilization for electricity generation results in a reduction in the emission of greenhouse gases. Most notably, all five of TSH's renewable energy projects are registered as Clean Development Mechanism projects under the United Nations Framework Convention for Climate Change (UNFCCC).